This week marks the first year since Pitik Bulag, an association of Filipino cartoonists and comic artists, joined the #FactsFirstPH initiative.
#FactsFirstPH is a campaign to promote truth and fight disinformation online. It is made of more than 120 groups composed media, coalitions, civil society groups, business organizations, research and legal teams in a drive described by Rappler CEO and Nobel laureate Maria Ressa as a "proactive fight against the use of social media for disinformation."
On April 13, 2022, Pitik Bulag announced its entry to #FactsFirstPH through cartoons drawn by Latagaw and Cartoonist Zach.
Among the regular contributing cartoonists of this partnership are Cartoonist Zach, Isang Tasang Kape, Sat's Ire, Latagaw, The Political Idiot, Balat ng Saging, Steph B., Chico David, Robbie Komiks, and Angelo Lopez.
Since the partnership, Pitik Bulag has contributed around 200 cartoons, comic strips, caricatures, and other forms of editorial-political art. The artists-cartoonists created illustrated versions of fact checking articles published by partners belong to Fact-Checking and Mesh Layers of #FactsFirstPH. "Due to each visual nature, cartoons can make fact-checking interesting for the audience," said Cartoonist Zach, one of the co-founders of Pitik Bulag.
Pitik Bulag also collaborated with Akademiya at Bayan Kontra Disimpormasyon at Dayaan (ABKD) and Tanggol Kasaysayan, another #FactsFirstPH partner, through the #SaysayNgKasaysayan campaign. From August to September 2022, Pitik Bulag cartoonists produced caricatures of leading political figures during Martial Law.
Pitik Bulag went beyond from just contributing cartoons and comics for #FactsFirstPH. With the help of Move.PH, Rappler's civic engagement arm, it conducted a series of online webinars about editorial cartoons and comics strips from August 2022 to September 2022.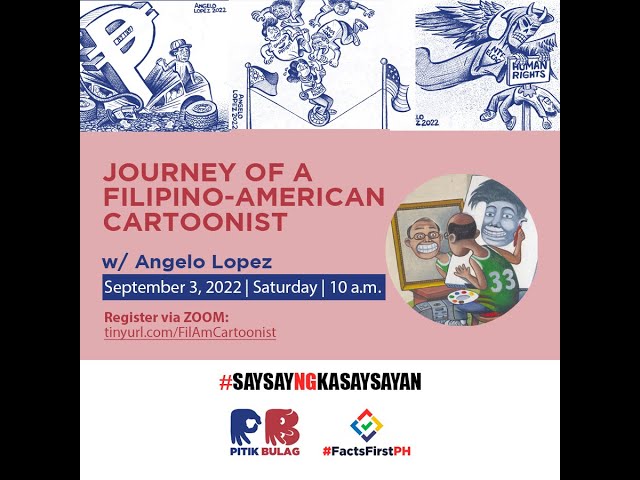 Pitik Bulag also organized the 3rd Tagisan Editorial Cartoon Contest with the theme "May saysay pa ba ang pagtanggol ng ating kasaysayan." The contest centered on the disinformation campaign aimed to distort history.

From the record-breaking 247 entries from all over the country, Amozart and the late Benharl Kahil emerged as winners in Junior and Senior Categories, respectively.
On December 2022, Pitik Bulag organized a live FB webinar titled "Paano gamitin ang kartun kontra disimpormasyon", hosted by Max Limpag of Innopub Media. The year end special of #FactsFirstPH featured panelists from Rappler and #FactsFirstPH and #SaysayNgKasaysayan partners, such as Gemma Mendoza (Rappler), The Political Idiot (Pitik Bulag), Prof. Jio Guiang (ABKD), and Karl Patrick Suyat (Project Gunita).
Latagaw even drew a live art during the seminar. His cartoon encapsulated the theme of the discussion.
On behalf of Pitik Bulag, Cartoonist Zach discussed how cartoons can be utilized to educate readers by combating disinformation during the year-ender special of #FactsFirstPH, published on Rappler social media pages.
Just recently, Pitik Bulag has gained another online platform by becoming a partner joining Rappler's Lighthouse Communities of Action.
Pitik Bulag looks forward for more collaborations with #FactsFirstPH as it continues to use cartoons to defend press freedom and democracy.